In the workshop we will:
Read and react to literature on the theme of 'care'.
Think about the history and etymology of care and how we use the word today.
Talk through two poems reflectively together, adding in some snippets from other favourite writers, and use them to think about our own experiences.
Our aims are:
For us to have fun together and learn from each other by talking about literature
For you to leave with some new ideas and some new language, and to be inspired to share these with others
For us to think about what matters to us and to gain some new perspectives, helped by the poetry
Tips for getting into the poems!
Can you put the finger on what "works" for you, and what doesn't hit the mark? Are there any specific words, images, colours, sounds or ideas that stand out?
What do the poems remind you of? Song lyrics, images, films, or memories of your own?
What kind of perspective would we need to feel that we are walking in the poet's shoes?
Are there any contradictions in the poem?
Do you think the poem conveys a particular idea or a message? What is the poet trying to tell us?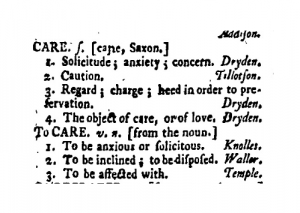 ---
The poems
We'll have the poems in front of us, but if you would like to read them in advance you can see below or email cambridgegooddeath@gmail.com for the worksheet (available in large or standard size text).
1) Alone I Care for Myself, William Dickey
2) Some dictionary definitions, 'Care'
Noun:
Mental suffering, sorrow, grief, trouble.
(1648) R. Herrick Hesperides 'When one is past, another care we have, Thus Woe succeeds a Woe'
Burdened state of mind arising from fear, doubt, or concern about anything.
(1623) Shakespeare Henry VI, Pt. 2 'So Cares and joyes abound, as Seasons fleet.'
Serious or grave mental attention; the charging of the mind with anything; concern; heed, heedfulness, attention, regard
(1697) J. Dryden tr. Virgil Georgics 'His Mother's Precepts he performs with care'
Charge; oversight with a view to protection, preservation, or guidance.
(1774) Ld. Chesterfield Letters 'I recommend to you to take care of minutes; for hours will take care of themselves.'
Verb:
To feel concern, trouble oneself, feel interest.
To have regard, fondness, or attachment for (a person)
To be careful, to take care
'to care for': to take thought for, provide for, look after, take care of.
3) The Prescription, Jacob Polley
The quotations
For what is love itself, for the one we love best? – an enfolding of immeasurable cares which yet are better than any joys outside our love.
George Eliot, Daniel Deronda
Caring was a thing with claws. It sank them in, and didn't let go. Caring hurt more than a knife to the leg, more than a few broken ribs, more than anything that bled or broke and healed again. Caring didn't break you clean. It was a bone that didn't set, a cut that wouldn't close.
V. E. Schwab, A Conjuring of Light
But then it occured to him that any progress he had made on his quest so far
he had made by accepting the help that had been offered to him.
Neil Gaiman, Stardust
Caring for myself is not self-indulgence, it is self-preservation,
and that is an act of political warfare.
Audre Lorde, A Burst of Light
What if what I want from you is new, newly made
a new sentence in response to all my questions,
a swerve in our relation and the words that carry us,
the care that carries. I am here, without the shrug,
attempting to understand how what I want
and what I want from you run parallel—
Maya Angelou, What does it mean to want
---
Some other recommendations on the theme of care
You may like to have a look at Words for our selection of poetry and prose on themes connected to death, dying and loss. There is also a short audio play on our website called End of Life Care: A Ghost Story which reflects on caregiving from the perspective of a doctor.
Emma's recommendation: Love (III), George Herbert
Laura's recommendation: Leaving Early, by Leanne O'Sullivan
We'd love to hear your thoughts and learn from your insights and experiences.

Please leave feedback anonymously here or email us at cambridgegooddeath@gmail.com. We especially love to collect new recommendations of literature, poetry, lyrics, and artworks!
Posted: 29th March 2021